We are a web design agency in Winnipeg, MB, that helps businesses utilize the benefits of responsive and innovative websites. 
Website Design Company in Winnipeg, MB
Marvel Marketing is a digital agency that specializes in web design and development services in Winnipeg, MB. We help businesses use online spaces to build their brand and expand their outreach. Over the years we have been in operation, we have created hundreds of websites for clients in different niches and industries. Our able team of web developers, designers, SEO, and e-commerce experts make this possible. Marvel adheres to a transparent pricing policy, and you are assured of a website that meets your expectations.
Winnipeg is popular for its world-class attractions, such as the Assiniboine Park Zoo and Art Gallery. This city has a rich history and a diverse culture. In Winnipeg, you will find hundreds of different nationalities. It wouldn't attract so many people if it weren't a thriving city. The economy is quite diverse, and all the major industries ranging from transportation, construction, finance, and agriculture are doing really well. Irrespective of the industry your business or services fall under, you must have a solid marketing plan if you want to succeed. You can partner with Marvel Marketing and conquer an area most people are often afraid of – the internet. You can reach plenty of new customers through our web design solutions and boost revenue. We have been offering these services since 2014 and have worked with businesses all over Canada. You can be assured that we are the best website designers in Winnipeg, MB.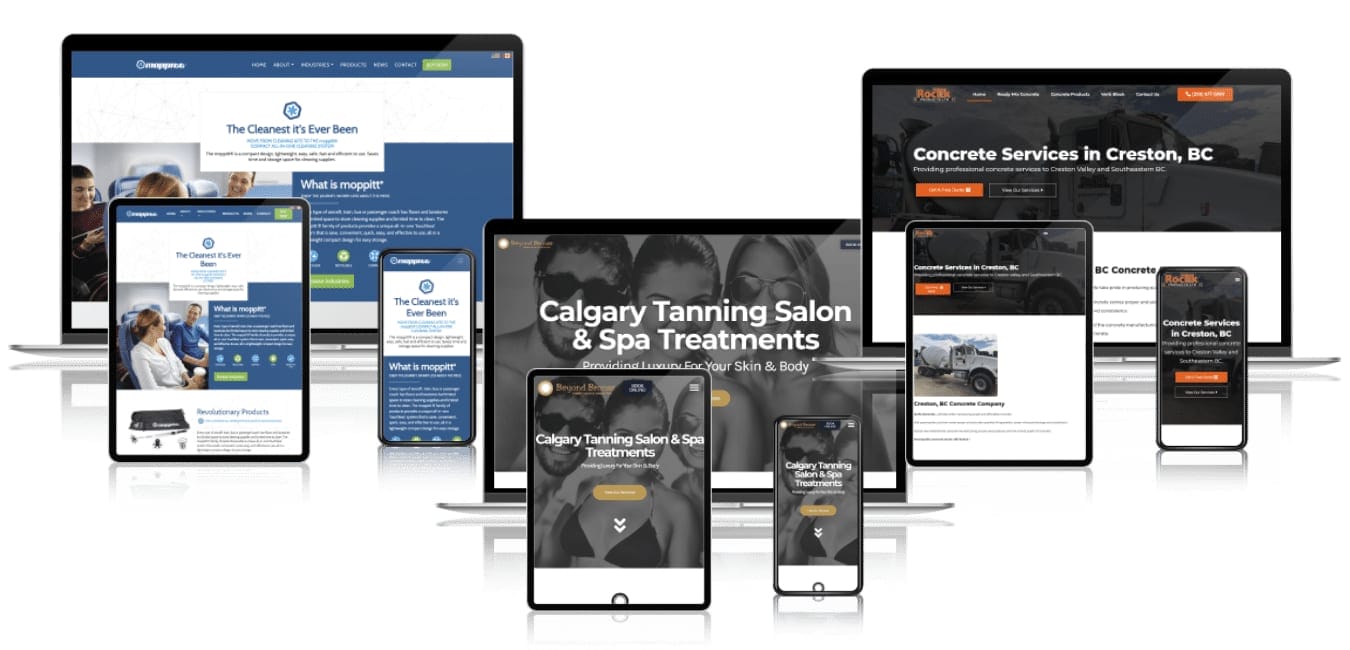 Characteristics of a Good Web Design
Whether it's your first- or tenth-time seeking Winnipeg web design solutions, there are certain factors you need to be on the lookout for. Here at Marvel Marketing, we understand what makes up an impressive web design. These are some of the things a web design solution must contain;
Mobile Responsive Web Design
As consumers gravitate towards mobile devices, web designers should ensure they have a great experience when using such devices to access their client websites. Marvel Marketing doesn't compromise on responsive web design. Our sites are optimized to perform exceptionally well on tablets, smartphones, and PCs. This ensures your clients have an easy time reading through content. 
24/7 Security
When a web designer is working on your site, you must inquire about the measures they take to ensure your site is safe. Online consumers are afraid of using websites that are insecure. They are scared of losing their data to scammers and hackers. If you want to get the trust and loyalty of your clients, you must have a website that is secure at all times. 
SEO and Site Performance
There are two key things that a website should have. One, it should be search engine optimized, and two, its performance should be exceptional. During development, our team will engage in search engine optimization and ensure the site is SEO friendly. We will also boost its performance through indexation, website domain, hosting, increased site speed, improvement of suability, and much more. 
Content Management System (CMS)
Today, Content Management Systems make the best websites. If you look at most Winnipeg-based websites, you will realize that they have been built using CMSs. We love CMSs because they store your information on a database. They also allow website owners to manage content on their sites. We love using WordPress because of its many themes and plugins. 
Website Redesign
After your business has undergone a major rebranding, or if you were out of business for a while and have just re-entered the Winnipeg market, you will need website redesign solutions. A website redesign is a makeover of your current website. We replace the layout and content with modern and newer trends. 
Maintenance Packages
As you look through various Winnipeg web designers, please go for those that offer maintenance packages. Websites are just like apps. With time, they will need updates, or errors will have to be fixed. After creating your Winnipeg website, Marvel Marketing will ensure it works perfectly through our maintenance packages. 
READY TO ATTRACT MORE CLIENTS WITH AN IMPRESSIVE WEB DESIGN?
What Type of Website Does My Winnipeg Business Need?
You have probably come across different websites in the past. Each type of website has its perks and appeals to specific businesses as well as their clients. Our team should advise on which type is best for your business during consultation. But it's crucial to understand the various types of websites that exist.
Static (HTML)
This is the simplest type of website. It stores content precisely as they are displayed on browsers. Static or HTML websites are ideal for companies that need an affordable solution in their online presence campaign. They are quick to create and boast of advanced security. The biggest drawback of this website is that the layout isn't fascinating. Also, there is no option to man, as with CMS. 
CMS or Dynamic
Majority of the websites you will visit today are built using a content management system. Our website is the perfect example. Dynamic websites are stored on a database and can be managed easily by the owners. If you have a dynamic website, you can customize the content as you wish. Also, these websites tend to look much better in terms of graphics and design. Dynamic websites are created and run on content management systems such as WordPress and Joomla. 
Ecommerce Online Store
Suppose you have always wanted to own an online store in Winnipeg. MB, ecommerce websites are suitable for you. These websites contain products or services, carts, checkouts, and payment gateways. They enable businesses and clients to transact online. Ecommerce stores are known to offer the highest ROI because they are available at all times. These stores are also built on platforms such as WooCommerce and Shopify. 
Over the years, Marvel Marketing has narrowed down to certain types of websites which aren't just popular. But they are more suitable for businesses that want to realize growth. One of the websites that we have specialized in is WordPress websites. We are very experienced when it comes to WordPress website design. Through this CMS, we can create SEO-friendly sites which are easy to use and manage. 
The second type of website that we find most rewarding to online entrepreneurs are ecommerce sites, preferably those created with Shopify. Using Shopify, our team of web developers can create a highly converting ecommerce store that is responsive on all devices. Thanks to our skills, your Winnipeg Shopify store will boost user experience, increasing customer retention. 
For the duration that we have been offering web design solutions, we have received plenty of requests for custom web solutions. Brands here in Winnipeg want to be unique, and our developers are very skilled when it comes to customization. During the web design and development research stage, we will look into your brand and identify the elements that distinguish you from the rest. We will use that to create a customized website for your business.
Bringing Together Your Vision and Our Expertise
We often don't rush our web design services because our goal is to create a website that meets your expectations. We can only learn about those expectations through consultations. We get an overview of what you want in a site during this stage and provide a free proposal after.
Another crucial step in our web design process is research and planning. Other than what you have told us during the consultation, we often take the necessary step to learn more about your business. That's where the research comes in. In this step, we may look at similar companies and develop a plan.
Before we start developing and designing a website, we must get approval from the client. In the third stage, our developers create page schematics and wireframes, sent to you for analysis and approval. The wireframes capture all the elements of your website.
Upon approval, the development will commence. As our web developers are working on your site, you will remain in contact with the project managers. They will keep you updated with the progress, and when it's ready, you will be contacted.
Before the website is made available to the owner, it must be tested. After confirming that all functions are working correctly, the project managers should deliver the website to you. You should also test the website before using it and ensure that it contains everything we had agreed on.
Delivery shouldn't be the last time we get to interact with you. Marvel Marketing also offers web design solutions. We will ensure your site retains optimal performance through regular checks, updates, and other forms of maintenance.
Grab Your Clients' Attention with a Stunning Web Design
Why Hire Marvel Marketing As Your Winnipeg Web Designer?
Our track record speaks for itself. Marvel Marketing has been creating websites for businesses and freelancers all over Canada for more than eight years. Not only do we have experience in web design, but we are very passionate about what we do. The entire team at Marvel Marketing works together to create responsive, functional, and highly converting websites that will help your business realize growth. Below are more reasons you should choose Marvel Marketing as your Winnipeg web designer. 
Do You Feel Like It's Time to Make an Impact Online with
Winnipeg Web Design Services?
Click the button below for a free web design proposal
Guaranteed Results from Expert Web Designers
To us, you are more than just a client. This is why we would like to partner with your Winnipeg business or company for as long as possible. Our Winnipeg web design services aim to provide measurable results. We listen to our clients and provide them with solutions that meet their expectations. 
How Much Will I Pay for A Web Designer in Winnipeg
Web Design Pricing in Winnipeg, MB
Before listing how much we charge for web design services, you should know that we have a transparent pricing policy. The fees for a Winnipeg web designer range from $2,995 to $25,000. Obviously, various factors dictate the price of a client's web design solutions. 
WordPress Website Packages
Starter
We will build a template WordPress website based on your samples provided, direction and brand guidelines.
Professional
We will build a customized WordPress website based on your samples provided, direction and brand guidelines.
Customized WordPress Theme
Premium
We will build a website from scratch with mock-ups on a WordPress CMS based on your requirements.
Custom WordPress from Scratch
5 Page Shopify
We will build a custom 5-page Shopify website with a template.
10 Page Shopify
We will build a custom 10-page Shopify website with a custom theme.
15 Page Shopify
We will build a custom 15-page Shopify website with a custom design.
frequently asked Web Design questions
How does the web design process work?
We start with a consultation and then proceed to research before sending you wireframes and page schematics for your site. Above, we have explained what goes on in our web design process. 
What will my website be built on?
Marvel Marketing builds all of its websites on content management systems. We prefer to use WordPress since its more reliable, has many plugins, themes, and features. If you want an ecommerce site, we can build it using Shopify. 
How soon will my website be ready for launch?
That will depend on the nature of your website. Complex websites often take longer. During the consultation, our project managers should give you a timeframe for when your website will be ready. 
Can Marvel Marketing work on my old websites?
We understand why you may not want to let go of your old website. The good news is we also offer website redesign solutions. We can revamp your old website by adding new designs and content. 
Get My FREE Web Design Proposal