Improve Your Brand's Credibility with a Professional Web Design
A professional web design can significantly enhance your brand's credibility in the digital realm. In today's fast-paced and highly competitive online landscape, where users make split-second judgments about a website's trustworthiness, having a visually appealing and well-crafted website is paramount.
First impressions matter, and a professionally designed website immediately conveys a sense of competence and professionalism. A clean and intuitive user interface, with clear navigation and well-structured content, not only makes it easy for visitors to find what they're looking for but also instills a sense of confidence in your brand.
Aesthetics play a crucial role in building credibility. A visually appealing design with a cohesive color scheme, high-quality images, and a polished layout reflects positively on your brand's attention to detail and commitment to quality. A professional web design ensures that your website looks modern and up-to-date, keeping pace with current design trends and user expectations.
Furthermore, a professionally designed website is optimized for performance and functionality. Slow loading times, broken links, and poor mobile responsiveness can quickly turn visitors away, tarnishing your brand's reputation. A well-designed website ensures a seamless and enjoyable user experience, reinforcing the perception of your brand as reliable and trustworthy.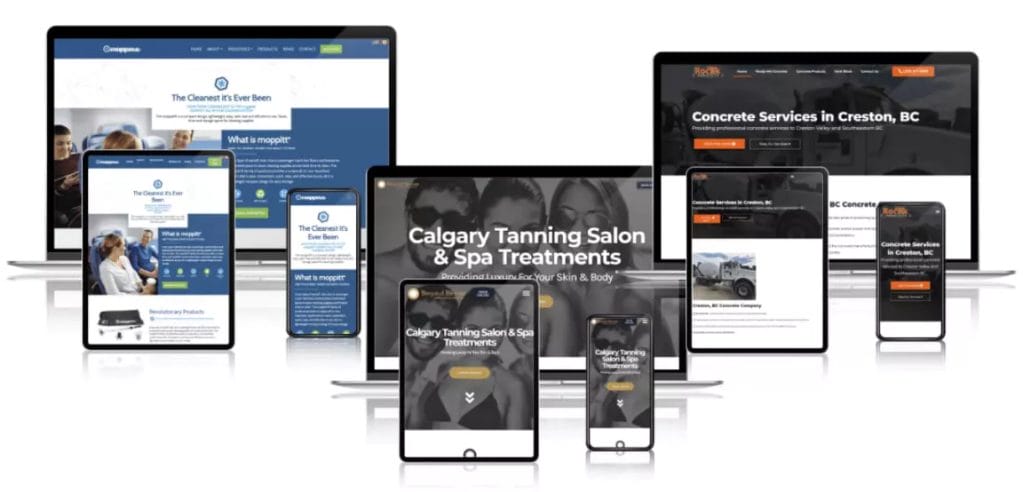 A Creative Web Design Can Drive Conversions and Company Growth
Websites have the power to fuel conversions and propel brand growth to new heights. In today's crowded digital landscape, where users are constantly bombarded with information, a visually captivating and unique website stands out from the competition and captures attention.
One of the key ways that creative web design boosts conversions is by creating a memorable user experience. When visitors land on a website that is visually stunning, innovative, and tailored to their needs, they are more likely to engage with the content, explore further, and ultimately convert into customers. 
A well-designed website with an intuitive interface, compelling visuals, and strategic calls-to-action guides users seamlessly through their journey, encouraging them to take the desired actions.
Moreover, a creative web design has the potential to evoke emotions and create a strong brand connection. By incorporating elements that reflect the brand's personality, values, and story, a website becomes more than just a functional platform—it becomes a powerful tool for brand communication and emotional engagement. When users resonate with the brand's aesthetics and message, they develop a sense of trust and loyalty, leading to repeat business and positive word-of-mouth recommendations.
A creative web design is a valuable asset that can significantly impact conversions and brand growth. Therefore, there is absolutely no reason why you shouldn't have a functional website dedicated to serving your customers. Get in touch with our marketing agency for a professional consultation and we can embark on the journey of establishing your online presence.
Why Your Business Needs a Professional Web Design
What most business owners don't know is that a website is more than just a platform for you to interact with clients. It is a conversion machine. A website solidifies your online presence while boosting your ranks on search engine result pages. This gives you a competitive advantage over other brands. 
Things like smooth navigation and unique layouts contribute significantly to the first impressions your brand makes to new clients. If these two are paired up with fast-loading pages and mobile optimization, then you have a higher chance of converting a site visitor into a customer. 
Rarely will consumers trust a business with a poorly designed website. This is why businesses and companies have to go the extra mile of creating professional websites.
Advantages of a Professional Web Design
Anyone can build a website. However, a professional web design guarantees better graphics, more functionality, and ultimate performance. Here are some of the benefits your business can enjoy from our professional web design solutions;
Establishes Your Brand's Online Presence
A website ensures your business is accessible to a global audience, expanding your reach beyond geographical limitations. With a creative web design, you can reach out to more clients. It's a pretty useful tool that can promote growth.
Increases Credibility
A well-designed website instills trust and credibility in your brand, making potential customers more likely to engage with your business. Your website is a digital representation of your brand. If it looks shoddy, then that will damage your reputation.
Showcases Your Identity
A website allows you to establish and reinforce your brand identity, conveying your unique values, mission, and visual elements. On your website, you can add logos, branding, and even your brand's motto or personalized messages.
Makes Your Business Available 24/7
Unlike physical stores with limited operating hours, a website is accessible 24/7, allowing customers to browse and make purchases at their convenience. When your website is always available, that means you will make more sales.
It's a Useful Marketing and Advertising Tool
A website serves as a central hub for your marketing efforts, enabling you to showcase products, share content, and promote your business through various channels. The best part about using your website for advertising is that it won't cost you any money.
It Boosts Customer Engagement
Websites provide interactive features such as contact forms, live chat, and comment sections, facilitating direct communication and engagement with customers. Through engagement, you can learn about your customers' needs and behavior.
A Channel for Showcasing Products and Services
A website allows you to display your offerings with detailed descriptions, high-quality images, and even videos, helping customers make informed purchasing decisions. Thanks to a creative website, your customers will have a better chance of evaluating products before buying them.
Gives You a Competitive Advantage
In industries where competitors may not have websites or have outdated ones, having a modern and user-friendly website can give you a competitive edge. When paired up with an excellent SEO strategy, you can outrank your competitors' websites and get more traffic.
How a Responsive and Mobile-Friendly Web Design Improves User Experience?
As you seek web design services, it's crucial to factor in responsiveness and mobile-friendliness as this directly affects your visitors' experience. 
A responsive web design ensures that a website automatically changes its contents to fit that of a particular device. This adaptability eliminates the need for users to pinch, zoom, or scroll horizontally, which can be frustrating and inconvenient. Instead, users can easily navigate through the website, view and interact with the content without any hassle.
By delivering a consistent user experience across devices, a responsive web design reduces bounce rates and keeps users engaged. When users have a positive and effortless browsing experience, they are more likely to stay on the website, explore its offerings, and convert into customers. This, in turn, boosts user satisfaction and increases the likelihood of repeat visits and referrals.
It also improves website loading speed. With responsive design, unnecessary elements, and large images can be optimized or hidden on smaller screens, resulting in faster loading times. Faster loading speeds are crucial for user experience, as slow-loading websites often lead to frustration and site abandonment.
Marvel Marketing's web designers are committed to optimizing every aspect of your website so as to better customer experience. Whether it's a custom website or a CMS like WordPress, we will ensure it's mobile-friendly and highly responsive.
WordPress Web Design Experts
Did you know that more than 60% of websites worldwide are built using WordPress? This is by far the best content management system. If you are interested in a WordPress website, you have come to the right place.
We have years of experience building WordPress sites. Our developers can create custom themes for your site and integrate crucial plugins to boost performance and user experience. Because WordPress is a secure platform, we will install security certificates to keep you and your client's data protected from third parties. 
One of the reasons we love using the WordPress CMS is because their websites are easy to use. post-launch, you won't have trouble updating your website or uploading content. Thanks to our 24/7 customer support, you can always contact us in case you run into any problem with your WordPress website. Our team is always ready and willing to help you out whenever necessary. 
Here are a few more benefits your business will receive when you choose our WordPress web design agency;
Custom WordPress theme

Website migration to WordPress

WordPress security and maintenance 

WordPress SEO 

Ongoing support 
What are you waiting for? Contact us today for quality WordPress web design solutions.
Shopify Web Design Experts
Shopify is the leading eCommerce platform for all businesses. Whether you are in real estate, fashion, or beauty, with Shopify, you can create a website that best reflects your brand. Just like WordPress, Shopify needs skill and experience if you want an online store that will bring in more sales.
Marvel Marketing has an expert team of Shopify designers who will use this platform to build a secure and scalable online store for your brand. We will start with a consultation meeting where will inquire about your eCommerce objectives and preferences. Our Shopify web designers will then create a custom theme with your branding. We will also set up payment gateways, shipping, carts, and everything your online store may need. 
As your Shopify partner, we will run site diagnostics and advise on some of the ways you can boost site visibility and traffic. 
Our Shopify web design services come with the following advantages; 
Unique designs 

Mobile responsiveness 

Enhanced user experience 

Integration of branding 

Around-the-clock support 
Get in touch with our Shopify web design gurus so that we can start working on your eCommerce store ASAP.
Custom Web Design Solutions
Understandably, sometimes you may be interested in a custom web design that makes your brand look unique and different. As your favorite web design agency, you can rely on us for custom web solutions. Marvel Marketing takes the time to listen to your needs. We also engage in thorough research to identify the needs of your clients. Using that information, we can now create a custom website that reflects your brand personality.
Through custom web design services, you can achieve authority status in your niche. Your customers will also appreciate the personalized brand experience. A customized website will help you build trust and credibility. 
Before we embark on the creation of a custom website, our web designers will come up with a prototype. And we always encourage our clients to offer insight into the color scheme, layout, graphics, and navigation. With us, you never have to use common templates. We give you the opportunity to create a unique website that stands out from the competition. 
Here are a couple of more things you can expect from Marvel Marketing as your custom web design company; 
A comprehensive web design process 

Access to skilled web designers

Results-oriented solutions 

Regular reports 

Site testing and optimization
Partner with a reliable web design company
that can help your brand make lasting impressions.
Click the button below for a free web design proposal
8 Main Qualities of a Superior Web Design
Marvel Marketing is undeniably one of the best web design companies. We have the experience, skills, and knowledge needed to build you a functional and powerful website. Here are a couple of reasons why you should hire us;
1. Visual Appeal
A visually pleasing design that captures the attention of users and creates a positive first impression.
2. Simplicity and Clarity
A clean and uncluttered layout with intuitive navigation, making it easy for users to find what they're looking for.
3. Responsiveness
A design that adapts to different screen sizes and devices, providing a consistent user experience across desktops, tablets, and mobile devices.
4. Readability and Typography
Effective use of typography that enhances readability, with appropriate font choices, font sizes, line spacing, and contrast.
5. Color Scheme
 Thoughtful selection and implementation of colors that complement the brand, create a visually appealing experience, and ensure readability.
6.Consistency
Consistent use of design elements, such as colors, typography, and layout, throughout the website for a cohesive and unified look.
Easy-to-use navigation menus and a logical structure that helps users quickly find the information they need.
8. Fast Loading Speed
Easy-to-use navigation menus and a logical structure that helps users quickly find the information they need.
When you choose us as your web design agency, we will incorporate all of the above factors into your project.
A Results-Driven Web Design Company
When you choose us as your web design agency, we will incorporate all of the above factors into your project.
Website Design Services FAQs
What is the typical process of designing a website?
The process may vary between web design companies, but here at Marvel Marketing, we follow these steps: initial consultation and goal-setting, gathering requirements and content, wireframing and prototyping, design mock-ups, development and coding, content population, testing and quality assurance, and finally, launch and ongoing maintenance.
How long do you take to design and build a website?
The timeline for designing and building a website depends on various factors such as the size and type of website. Simple websites can be built within a few weeks, while advanced websites may take longer. We will give you a project outline estimating how long your site will take.
Can I update and manage the website content myself?
Yes, most of our websites are built on content management systems (CMS) that allow clients to easily update and manage their website content without requiring technical expertise. Popular CMS platforms include WordPress, Joomla, Drupal, and Shopify for e-commerce websites.
Will my website be mobile-friendly?
Yes, a responsive and mobile-friendly design is crucial in today's mobile-driven world. Marvel Marketing prioritizes websites that are optimized for various devices and screen sizes, ensuring a seamless user experience across desktops, tablets, and smartphones.
Get My FREE Web design Proposal