Grow your business with innovative B2B digital marketing strategies.
The B2B industry is quite competitive. Without the right digital marketing strategies, it can be challenging to secure genuine leads. As a leading B2B marketing agency, Marvel Marketing is on a mission to empower B2B companies with the best digital marketing services that are optimized to drive leads, conversions, sales, and growth. We have a unique team of innovative B2B digital marketers who will help your business convert prospects into loyal clients. 
Short for Business-to-Business marketing, it refers to the strategies and activities that companies employ to promote their products or services to other businesses rather than individual consumers. Unlike B2C (Business-to-Consumer) marketing, B2B marketing targets decision-makers and professionals within organizations, aiming to build strong relationships, showcase the value of their offerings, and meet the specific needs and challenges of their clients.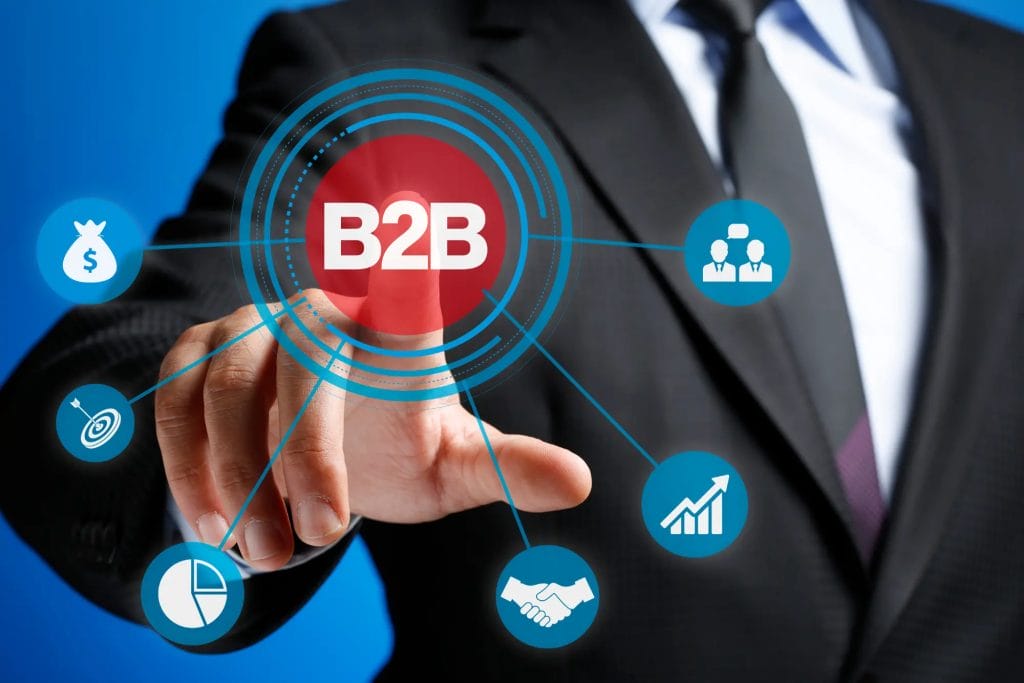 What are the Different Types of B2B Businesses?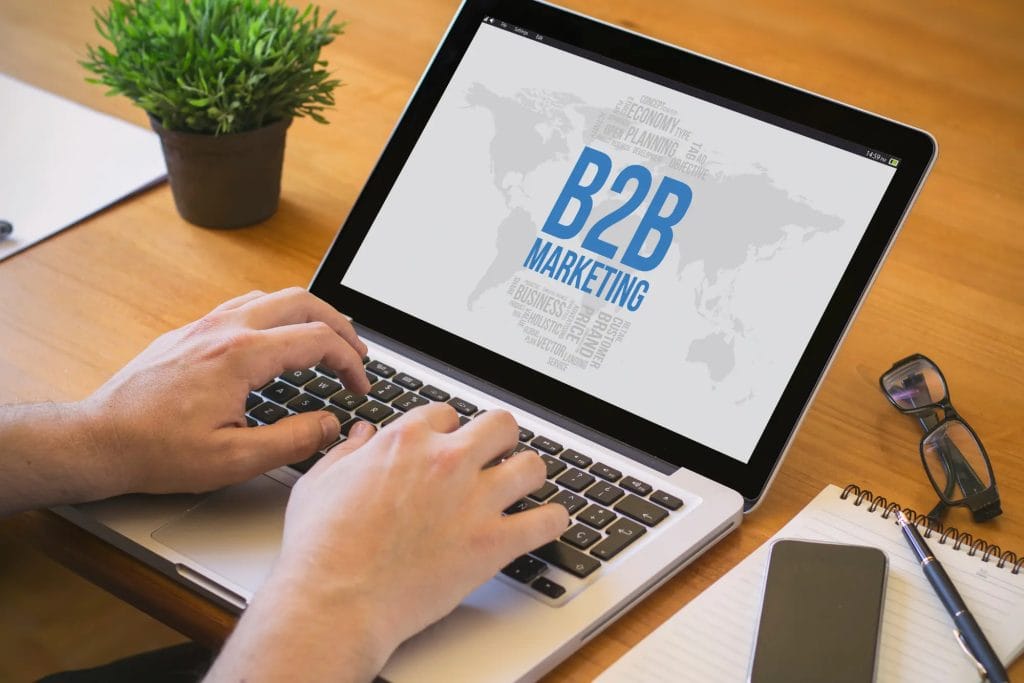 B2B businesses are further divided into smaller sub-groups. Each type of B2B deals with different audiences and therefore the marketing approach varies among these sub-groups. Here are some of the common types of B2B businesses; 
Manufacturers: These companies produce and supply raw materials, components, or finished goods to other businesses in various industries.
Wholesalers/Distributors: Wholesalers purchase products from manufacturers in bulk and then distribute them to retailers, other wholesalers, or end-users.
Suppliers/Vendors: These businesses provide specific goods or services required for the smooth operation of other companies, such as office supplies, IT equipment, or maintenance services.
Professional Services: B2B companies offering specialized expertise and services, including consulting firms, marketing agencies, legal services, accounting firms, and software development companies.
Irrespective of which type of B2B you're running, you can rely on Marvel Marketing for professional marketing solutions that will help you attract lots of clients and also enhance your brand awareness. Contact us today for a free consultation.
The 4 Key Pillars of B2B Marketing
Over the years that we've been offering digital marketing solutions, we've come to realize that a successful B2B marketing strategy revolves around four key pillars. These pillars set the foundation for how B2B businesses can attract quality leads and retain loyal customers. They include; 
Target Audience and Buyer Personas: Understanding the target audience is paramount in B2B marketing. Developing detailed buyer personas helps to create personalized and relevant content, products, and services that resonate with the needs, pain points, and preferences of potential clients.
Content Marketing: Content is at the core of B2B marketing strategies. High-quality and valuable content positions a company as an industry thought leader, establishes trust and educates potential buyers.
Lead Generation and Nurturing: Lead generation focuses on attracting and capturing the interest of potential B2B clients. Once leads are acquired, lead nurturing strategies help build relationships and guide prospects through the sales funnel. 
Data and Analytics: Data-driven decision-making is essential in B2B marketing. Analyzing and interpreting data from various sources, such as website analytics, email marketing metrics, and customer feedback, provides valuable insights into campaign performance and audience behavior.
Whether you're the owner of a B2B business, or you have been tasked with digital marketing duties, you need to pay attention to these four crucial pillars. Understandably, if you lack the time, resources, or expertise, you can always rely on Marvel Marketing for professional B2B marketing solutions. From creating buyer personas to analyzing data, we have a team of creative specialists who can handle everything for you.
B2B (Business-to-Business) marketing and B2C (Business-to-Consumer) marketing are two distinct approaches aimed at different target audiences. B2B marketing focuses on promoting products or services to other businesses, emphasizing factors such as cost-effectiveness, efficiency, and meeting specific business needs. The decision-making process in B2B transactions often involves multiple stakeholders, extensive research, and a longer sales cycle.
On the other hand, B2C marketing aims to attract and persuade individual consumers directly. It typically emphasizes emotions, lifestyle, and brand identity to appeal to personal desires and preferences. B2C transactions are often more impulsive, with shorter sales cycles. While both strategies utilize various marketing channels, B2B marketing is more relationship-driven, while B2C marketing is more emotion-driven. Understanding these fundamental differences is crucial for tailoring marketing efforts to effectively reach and engage the right audience.
Which one should you focus on? Well, that depends on who are your ideal clients. If you mostly sell to businesses, then B2B marketing is right for you and if you sell to consumers, you should focus on B2C.
How to Create a B2B Marketing Strategy
Allow us to take you through our unique approach when it comes to creating and delivering B2B marketing strategies to our clients; 
Why Choose Marvel Marketing as Your B2B Marketing Agency?
Being a premier B2B digital marketing agency, there are many benefits you can receive from our partnership. Our team of specialists, led by our founder, Ryan McRae, have an in-depth understanding of B2B marketing. When you pair this vast knowledge with our lengthy experience, you're assured of achieving more sales and visibility with our B2B marketing solutions. Here are more reasons why you should hire us; 
Client-Centric Focus
Your success is at the core of everything we do. Our team takes the time to truly understand your business, industry, and unique challenges. We listen to your feedback, understand your goals, and adapt our strategies accordingly, ensuring that every campaign is tailor-made for the success of your B2B. 
A Holistic Approach to B2B Marketing
We believe in a holistic approach to B2B marketing. Our services work in harmony to create a powerful synergy that maximizes your reach, engages your audience, and drives conversions. From SEO to social media, every aspect of our strategy is seamlessly integrated to deliver exceptional results.
Years' Worth of Experience
Over the years, we've helped numerous B2B businesses achieve remarkable growth and success through our marketing strategies. Let our track record of satisfied clients inspire you to take your business to new heights with us.
Dedicated Customer Service
At Marvel Marketing, your satisfaction is our top priority. We go above and beyond to provide outstanding customer service and dedicated support, ensuring that all your questions are answered promptly and your needs are met.
Exceptional Creativity
Content is the backbone of successful B2B marketing, and our team takes pride in creating compelling, relevant, and informative content that captivates your audience. From engaging blog posts to captivating videos, our creative touch ensures your message resonates with potential clients.
Data-Driven Results
We believe in the power of data to drive success. Our strategies are rooted in thorough research, analytics, and insights, ensuring that every decision we make is based on concrete evidence. By analyzing campaign performance, we continuously fine-tune our approach to deliver the best possible results.