Calgary Google Ads Management
Generate more leads and reduce your PPC cost with Google Ad Management.
our Google Advertising Service Targets 4-6X ROI On PPC Campaigns
Since 2014, Marvel Marketing has been offering Pay-Per-Click solutions to a wide range of businesses in Calgary. Our Google Ads marketing agency in Calgary utilizes proven tactics and advanced tools to grow your brand, increase traffic and conversions. 
Our Google Ads managers are highly experienced in paid search marketing. We will develop personalized campaigns to ensure Google ads' success and a high return on investment. Our team of experts can target keywords that will drive more leads to your business. We are very keen on research and will help you figure out the most cost-effective approach to paid search marketing.
What Will Google Ads Management Look Like?
When you hire Marvel Marketing as your Google Ads management in Calgary, you will experience transparency, effective google ppc strategies, and best of all we DO NOT require any long-term contracts. We believe we need to earn and keep your business with results, not a contract.
Our Process To Successful Google PPC Strategy
We use proven and tested PPC strategies for your Google Ads Campaign that result in more traffic and conversions.
Consultation
This is the most crucial step because it gives us insight into your business's marketing needs. During the consultation, we will ask basic questions about what you are looking for in your Google ads campaigns. Our managers can also ask for geo-location, landing page URLs, a few keywords that you may want us to use, and your budget. All these factors help us determine how to personalize your campaigns. During this stage, you will also be assigned an account manager.
Research
Regarding Calgary Googles ads management, our team will research two vital things; keywords and target audience. For the keywords, we will look into terms commonly used in Calgary and its nearby environs. Our focus will be on phrases that make the most sense to your brand. Our Google ads managers will also evaluate your target audience so that we can identify your target audience.
Development
With the above details in mind, we can develop a suitable Google ads campaign. The development stage is where all the magic happens. It often entails creating landing pages, building ad groups, writing ads, and creating extensions such as snippets and site links. We will also engage in PPC bidding strategy and setting up ads tracking with Google Analytics.
Review
Unlike other agencies, we don't launch campaigns without our clients getting the opportunity to review the developed Google ads campaigns. You can take a peek, and we are open to making any changes suggested. Therefore, don't hesitate to let us know if you want to amend anything on the Google ad.
Launch
Once you approve the ad campaign, we will proceed to put it live. Obviously, your account manager will notify you about the launch, and you can review it again. What sets Marvel Marketing from other Calgary Google Ads agencies is that the launch of your campaign is the beginning of our long-term partnership.
On-Going Optimization
Post-launch, we engage in thorough customization of your Google ads campaigns. The purpose behind this step is to ensure the success of your Google ads.
Analysis And Reports
Remember when we said that a professional Google ads manager needs to provide measurable results? You will be glad to know that Marvel keeps an eye on your campaigns and measure success in terms of clicks and impressions. All this information is compiled and sent to you in a report.
These are text ads that are displayed on the search engine result pages. They are mostly placed on top of organic search results. Search ads are the best option if you are looking for people interested in making a purchase immediately. Marvel Marketing can create the best search ads for your Calgary business. We will achieve this by creating a compelling ad copy, integrating your brand within the campaign, and creating dynamic and responsive campaigns. 
These image-based Google ads are ideal for targeting potential customers during their initial buying phase. They are perfect for creating brand awareness. With our expert skills, we can create display ads and showcase them to clients who may be interested in your products or services. To ensure the effectiveness of display ads, we focus on their responsiveness and the target audience they are displayed to.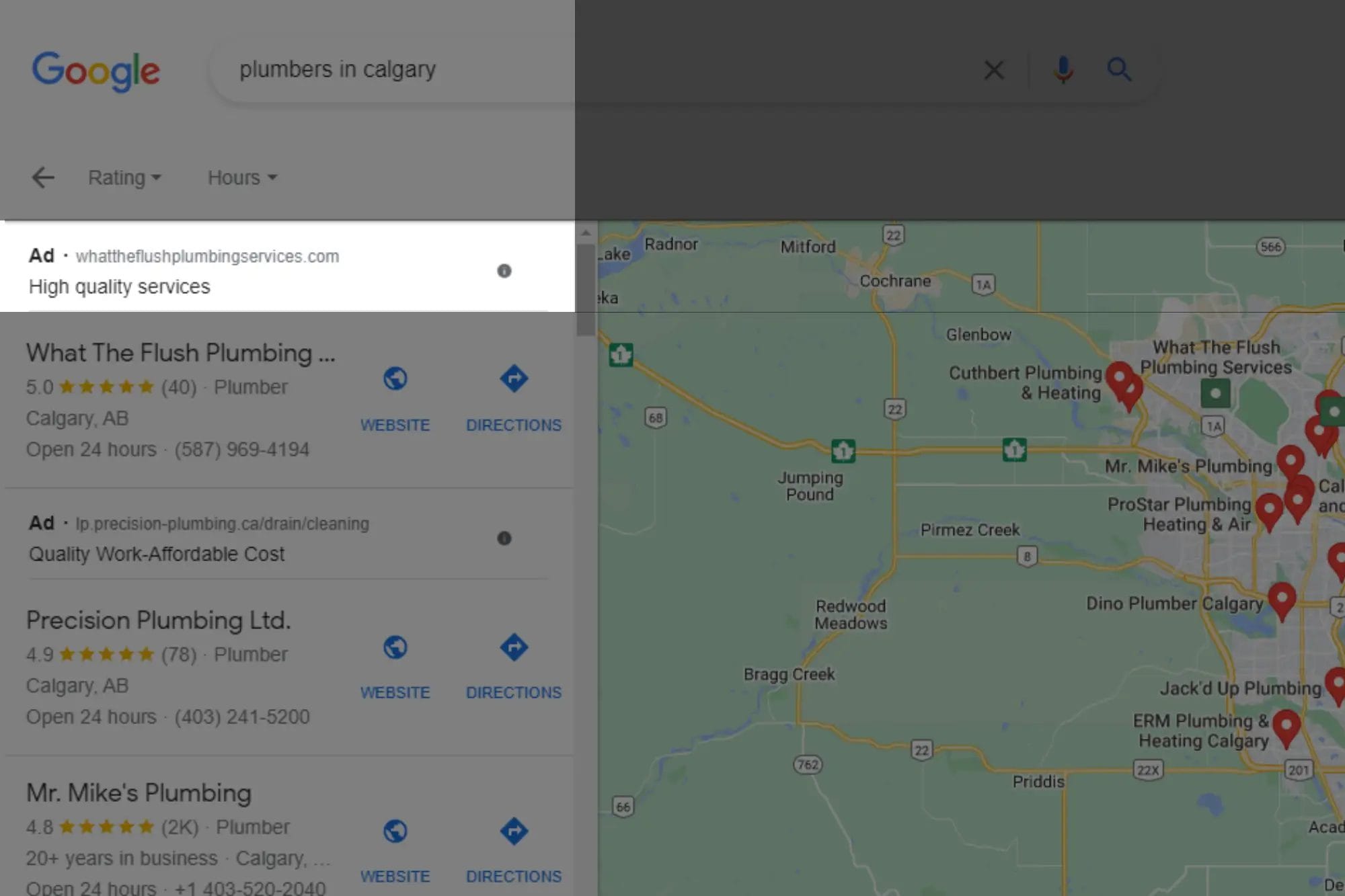 This type of Google ad can be highly lucrative to Calgary businesses specializing in HVAC, roofing, electrician, cleaning, dentistry, locksmith, plumbing, and other popular service providers. Through local service ads, you can build a name for your brand. When you hire Marvel to manage local service ads, we won't just bring you more quality leads. Our team will ensure you gain a better reputation, and we can help you secure local Google awards and certifications, which help establish trust and loyalty. 
If you are running an eCommerce store in Calgary, you should invest in shopping ads. One of the perks of shopping ads is that they are displayed alongside the name, reviews, and even price. Therefore, they can direct tons of traffic to your website. When it comes to shopping ads, the Marvel Marketing PPC department can create product shopping ads, showcase shopping ads, and local inventory shopping ads. We will ensure your shopping ads are keyword rich and reach your target audience. 
Frequently Asked Questions
What is Google Ads Management?
It's the process of hiring an agency to run your Google ads campaigns. Seeking Google ads management services comes with many perks. Besides taking this task off your shoulders, a Google Ads agency offers professional development and optimization of campaigns, thus ensuring campaigns are more successful. 
Can I Manage Google Ads Myself?
Of course, you can. But if you are interested in a highly converting Google ads campaign, you are better off partnering with a professional agency with the knowledge, tools, and experience. 
How Much Does It Cost to Manage Google Ads?
The cost to manage your PPC advertising in Calgary will depend on your monthly Ad budget. Our Google ads management pricing starts at $995 per month.
Does Google Ads Management Bring a Return on Investment?
Yes, our clients often witness 4-6X ROI after hiring our Google ads management services. When you choose Marvel Marketing to manage your Google ads, we work around the clock to deliver more traffic, leads, and conversions. Therefore, you are assured of getting a significant return on investment from Google advertising.
How Long Does It take to Develop Google Ad Campaigns?
It should take around two weeks for our agency to research, develop and review your Google ad campaigns. 
Contact Us For Google Ads Management In Calgary