We are a Montreal web design company that creates customized and high-performance websites which accelerate business growth.
Website Design Company in Montreal, QC
Marvel Marketing will create a website that fits all your business needs. Whether you run a company or business, our team of digital experts and developers will create a website that is aesthetically pleasing and improves your brand's credibility. Marvel Marketing offers custom web solutions in Montreal and its environs. These services are provided by a combined effort of web designers, developers, e-commerce gurus, SEO experts, and copywriters. 
Over the years, Montreal has been home to many international events. That doesn't come as a surprise since it's a playing ground for music lovers, art enthusiasts, foodies, and language connoisseurs. It is one of Canada's most prominent cultural hubs and is the second-largest city in this country. When you factor in all these demographics, you will realize that Montreal, QC is an excellent place to do business or offer services. The best way to tap into your market is by having a professional website. Marvel Marketing ensures you establish a solid online presence in Montreal, QC. Our high-performing websites will attract more leads and make you stand out from the competition.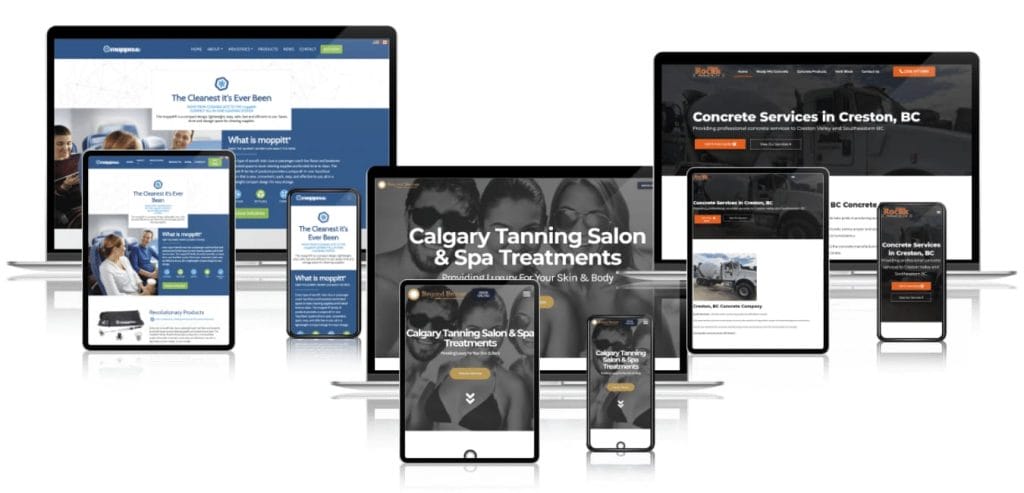 Reasons You Should Have a Website
What to Look Out for in Montreal Web Design Solutions?
Certain elements make up a good web design. Here in Montreal, there are plenty of agencies that offer web design solutions. As a client, here is a list of factors you should consider when seeking these services. 
Mobile Responsive Web Design
The first thing you should tick on your list is if the agency creates responsive web designs. Today, most of your website's visits will come from mobile devices. Smartphones have become the go-to choice for many consumers because they are convenient. With a responsive web design, you will get low bounce rates and will be able to retain clients for longer. 
24/7 Security
The second thing that makes up a good web design is security. There are hundreds of scammers online, and the best way to beat them is by improving the security of your website. Our developers encrypt your website with SSL certificates to ensure that it's free from hackers and other people who may have malicious intentions. 
SEO and Site Performance
Search engine optimization goes hand in hand with site performance. During web development, Marvel Marketing incorporates both of these solutions to ensure your site is performing better and you will realize an improvement in rankings. In the process of creating an SEO-friendly website, we may improve usability, website speed, use a content management system, give you a proper URL structure and domain name. 
Content Management System (CMS)
When seeking web design services in Montreal, QC, you need to ask your web designer what CMS will they be using? CMS stands for content management system, and it's a platform people use to create websites and manage content. Marvel Marketing has a couple of CMSs that we like to use. Examples include WordPress, WooCommerce, Shopify, and Drupal. These CMSs are reliable and very easy for our clients to operate. 
Website Redesign Services
The other solution often overlooked when hiring website designers in Montreal is redesigning services. If you already have a website and the content is outdated, or you may have rebranded your business, these are all signs that you can benefit from a website redesign. These services entail revamping a website to ensure the content is updated, relevant and informative. 
Maintenance Packages
A lot of people confuse web redesign and web maintenance. The latter entails solutions that aim to keep your site healthy and perform correctly. For instance, our website maintenance services entail tweaking forms, fixing errors, updating plugins, and improving page load speed. During maintenance, we can also perform revisions on the design. 
Are You Ready To Try A Different Marketing Approach?
What Kind of Website Does My Montreal Business Need?
There are different websites, and only one of these will be perfect for your business. We are going to do a rundown of the different types of websites so that you can identify which seems better for you. It's essential to take a step back and evaluate what type of business you are running and its objectives. If you find it hard to settle on a website, Marvel Marketing will help you choose one. 
Static (HTML)
HTML websites often feature a simple web design. They are an excellent choice for businesses that want a website on a budget and require a quick turnaround time. HTML sites appear as they are stored. They are an easy way for you to share content online. They, however, lack a database. So, if you want a website that's heavy on content, you may require something different. 
CMS or Dynamic
A dynamic website is more advanced than an HTML website. The content on a dynamic website is built on a content management system such as WordPress. CMS websites work best for businesses promoting products or want to display a wide array of information. Besides being built on CMSs, dynamic websites are also managed on these platforms, which is very easy to do for most people. 
Ecommerce Online Store
If you are a business owner, this is the type of website you should go for. An ecommerce store enables you to showcase and sell products or services online. With an ecommerce store, you get to serve customers in Montreal and all over Canada. These websites operate like ordinary stores, only that they are available 24/7. These websites can be created using platforms such as Magento, Zencart, or Shopify. 
Businesses looking for WordPress website design experts in Montreal can rely on Marvel Marketing to create an appealing and responsive website for them. Out of the many content management systems, we love WordPress. Our team can create a user-friendly and innovative WordPress website for your business at affordable rates. 
For service providers and business owners that want an eCommerce website, Marvel Marketing can build one for you using Shopify. This is a website builder that is known for creating ecommerce stores that are user-friendly, responsive, and aesthetically appealing. With our Shopify websites, you can leverage this platform to increase sales. 
It's crucial for any Montreal service provider or business to have a customized website. Our web developers don't use templates. We only stick to custom designs that will ensure your website looks unique. During the web development phase, we will send page schematics so that you can confirm the uniqueness of our designs. 
This is where all the magic happens. To kick things off, our consultation is free. Therefore, don't be afraid to get in touch. During the consultation, you will have a serious discussion with one of our project managers. You will tell them what you are looking for on a website.
From what you have told us, our developers will further research what you are interested in. Research is crucial since it gives us a clear picture of your needs. Information obtained is noted in a plan, which we often refer to as a sitemap.
After research, we develop a wireframe. This will be a prototype of what your website will look and feel like. The wireframe must reflect the user experience you would like your visitors to have.
Our developers begin creating your website using the wireframe and sitemaps developed earlier. We also take into consideration any special requests you may have made. Everything that was on the prototype is brought to life during this stage.
Your website should almost be ready by the time we reach this stage. But before sharing it with you, we must confirm if everything is working as expected. We will run some tests on functionality and responsiveness.
After creating a website for you, Marvel Marketing also offers web maintenance services. We can run updates monthly, fix errors, make amends that you may need later on, and anything else that will ensure your site is running perfectly well.
Why Hire Marvel Marketing As Your Montreal Web Developer?
Having an online presence is critical to business success. Marvel Marketing brings you the best web designers and developers to turn your vision into reality. We are a reputable digital agency that offers lasting and measurable results. We have been creating world-class websites for clients all over Canada, and we can do the same for you. Below are the benefits of choosing Marvel Marketing as your Montreal web designer. 
Do You Want To Increase Revenue With
Montreal Web Design Services?
Click the button below for a free web design proposal
Our web design services offer lasting and measurable results. No matter what your business goals are, Marvel Marketing can create a website to ensure you achieve these objectives. This passionate team of digital experts strives to create long-term relationships with its clients. We will make the web design process comfortable, effortless, and enjoyable. 
Web Design Pricing in Montreal
Your needs will determine the fees for web design solutions. You can expect to pay from $2,995 to $25,000. Our clients can choose from one of the packages below. 
WordPress Website Packages
Starter
We will build a template WordPress website based on your samples provided, direction and brand guidelines.
Professional
We will build a customized WordPress website based on your samples provided, direction and brand guidelines.
Customized WordPress Theme
Premium
We will build a website from scratch with mock-ups on a WordPress CMS based on your requirements.
Custom WordPress from Scratch
5 Page Shopify
We will build a custom 5-page Shopify website with a template.
10 Page Shopify
We will build a custom 10-page Shopify website with a custom theme.
15 Page Shopify
We will build a custom 15-page Shopify website with a custom design.
frequently asked Web Design questions
What is a website builder?
These are platforms that web developers and designers use to create websites. Website builders are highly preferred because they don't require coding skills or knowledge. Examples of website builders include Shopify, WordPress, and WooCommerce. 
What's so important about web design?
A poorly designed website will repel plenty of visitors, which will negatively affect your brand. However, a good website design will boost sales and retain visitors to your site for longer. Considering how valuable user experience is these days, you should pay attention to your website design. 
How do I choose a web design company?
First, you must consider their understanding of web design. How knowledgeable they are will determine the final result. You must also consider their skills, experience, and service delivery. Do not forget about the cost. 
Is it a must for my website design to be responsive?
Yes, your website must be responsive. These days, most online consumers use smartphones or tablets to access the internet. If your site isn't responsive, you will miss out on many sales. 
Get My FREE Web Design Proposal