Alright, before I get into Keywords, I'm going to briefly explain who I am. My name is Ryan McRae, I am the founder of Marvel Marketing and I've been doing marketing heavily since 2012 and have been successful in helping businesses across Canada and the US with improving their SEO. I am proud and honoured to say that Marvel Marketing recently received the Consumer Choice Award for search engine optimization in 2020. I'm also extremely proud in our team that Clutch, a reviews and ratings firm, has awarded us a position as a top B2B company in Canada. Specifically, we're being recognized for our marketing and advertising services. So, lets get started shall we? The bread and butter of SEO is keywords. Let me tell you a bit about them.
Simply, What Is A Keyword?
Keywords are what your potential clients, customers and viewers type into a search engine (Like Google) to find your website. For example, "best cat food recipe" are the four words that comprise the keyword that the user types into the search engine. The user may have found the same site after typing in simply "cat food recipe", "cat food" or even (though extremely unlikely) "cat" or "food recipe". All these phrases are separate keywords. Each one has different and various amounts of competition and a varying number of people who type it into the search engine.
For short, I am going to call this the supply and demand of the keyword. Supply is the amount and power of the competition and demand is how many people are looking for it. The supply for "food recipe" is huge probably in the 10s of millions as is the keyword "cat", because there are untold millions of websites that compete for those words. but would you want to rank for those keywords, even if you could?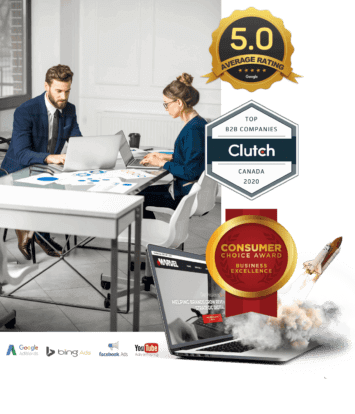 Here's some different kinds of keywords:
Head – Term keywords:

keywords with one or two words. (Auto repair)
Long – Tail keywords:

keywords with three or more phrases. (Auto engine repair shop)
Navigational keywords:

keywords used to locate a particular brand or website. (Facebook, YouTube)
Informational keywords:

keywords used to discover on a particular topic. (How to change my car oil)
Transactional keywords:

keywords entered into Google search by customers wanting to complete a commercial action. (Buy jeans online)
Why Are Keywords Important?
In our example we wrote about the "best cat food recipe" so if someone were looking for a "food recipe" they would be unlikely to read your page and they would be gone in a millisecond (This will effect your bounce rate which will hurt your SEO efforts). Similarly, if they had typed in the keyword "cat" the same thing would be likely to happen neither of these keywords is focused enough; they're just too broad. The person typing in "cat" may have just wanted the literal definition of the animal not your amazing one-in-a-million cat food recipe.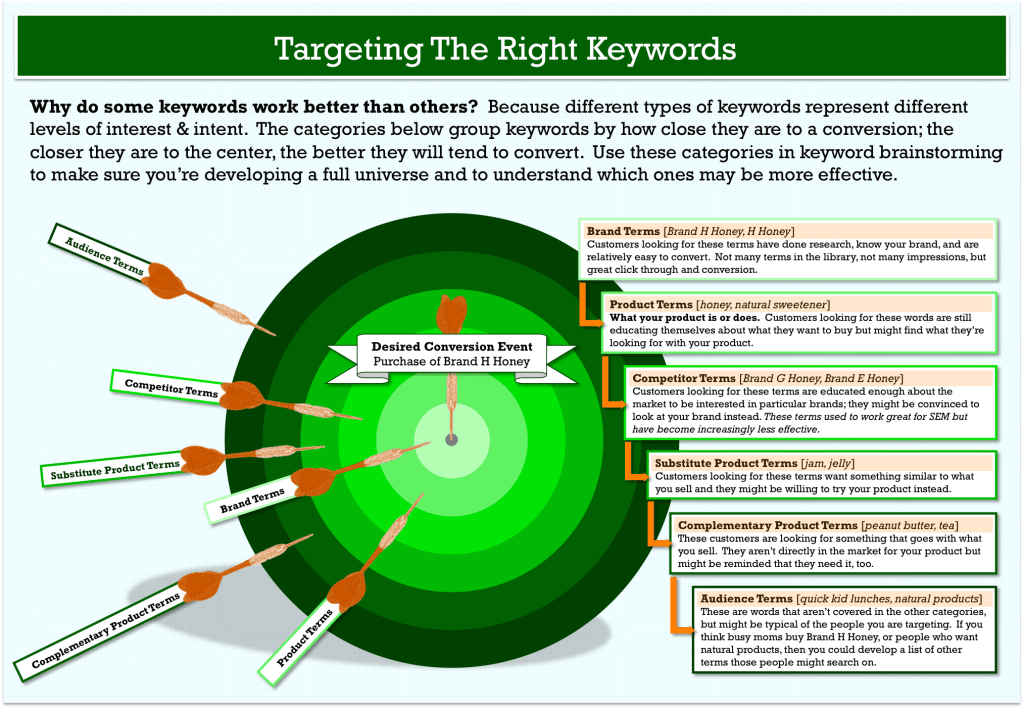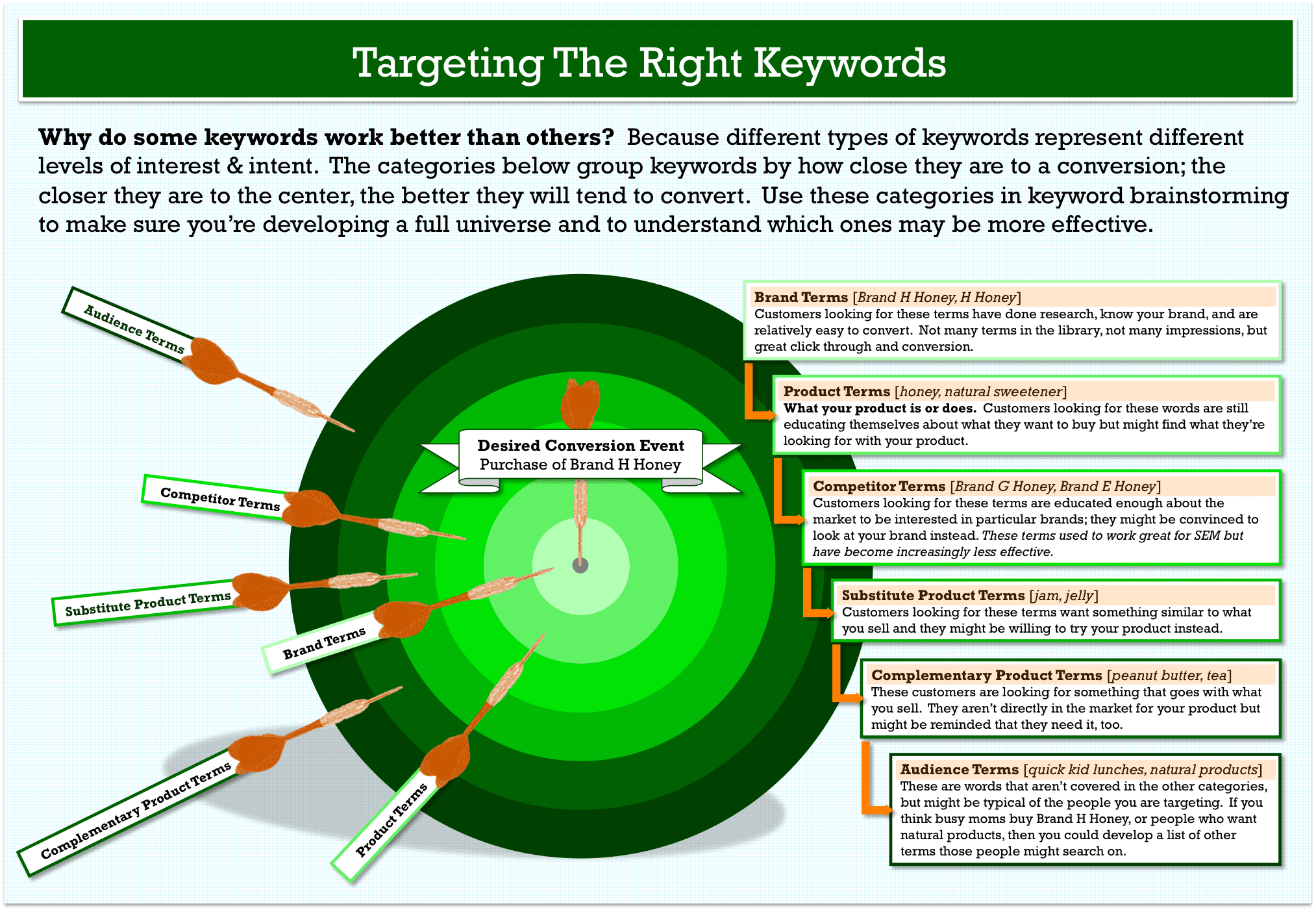 Generally speaking, the more focused the keyword, the better the quality of visitor you'll receive because they are more targeted. Keywords will need to be integrated throughout your website in your copy strategically and in a way that will benefit your SEO. I will discuss how to implement keywords as a separate topic supplementing this article. Just know that keywords are extremely important for driving not only traffic but quality, targeted traffic to your website.
We always recommend when building your website that you work with a professional content writer for this reason. Your content writer can incorporate your keywords in the website copy which needs to be done for SEO so your website can be found for those keywords (SEO isn't this easy, but this is the start). Using the keywords in your website copy will help your website become more relevant to google and will be more relevant for the visitors that come to your website.
So, the #1 place where your keywords are to be used is on your website. The second most important place you want to be using your keywords is on YouTube (If you have YouTube…and if you don't then I recommend you get YouTube for your brand). YouTube is the second largest search engine in the world aside from Google search itself (Don't believe me? Read this article from Forbes). YouTube is also owned by Google so you can probably grasp why its important to have both and implement your keywords on both.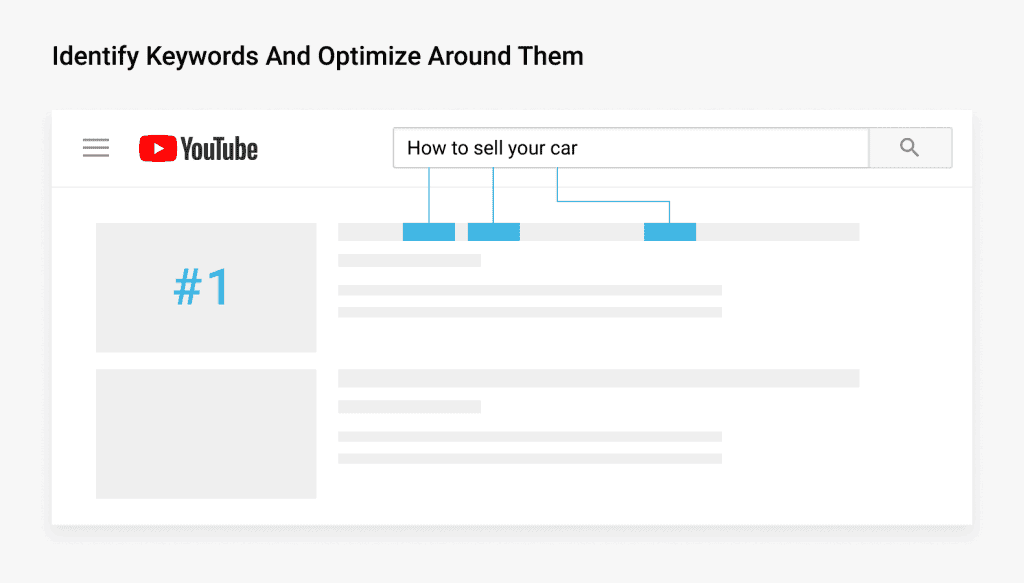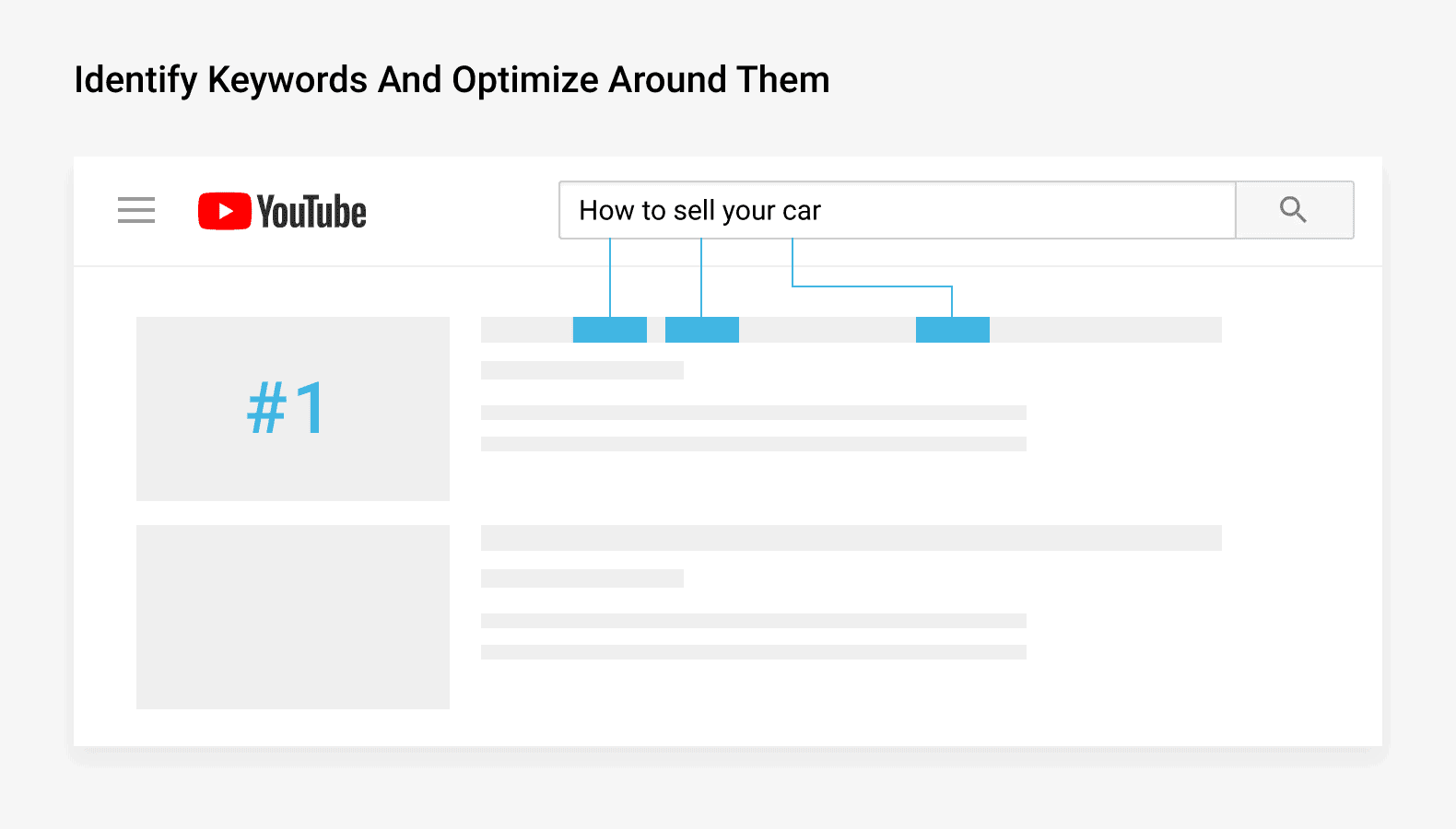 A few other places you should use and implement your keywords are…
Online Ads (Google, Facebook, Instagram, Linkedin)
LinkedIn Brand Page
Facebook Brand Page
Instagram Posts
Google My Business Listing
Directory Listings Descriptions
How do you find the best keywords for your brand?
Ah the almighty keyword research. Its really no joke. We take keyword research very important and you should to if you don't want to waste time, money or both on SEO for the wrong keywords. 
the value of selecting keywords strategically is very high. The "Right" keywords allow your optimization efforts to happen quicker and produce the best organic result. Many of the companies ive consulted for over the past few years didnt pay much attention to keyword research.
As a result, they were either trying to optimize websites for keywords they could never achieve under page one rankings for, because an authority site like Amazon held the top position, or for keywords that had no search volume. 
So, lets get to the point and go over the process of finding the right keywords for your brand. 

My SEO team at Marvel Marketing uses a few different tools for finding the right keywords. You can see the image above that shows what I think is the top 8 keyword research tools. We use them all for our SEO and keyword research campaigns. The price of all these tools alone makes it worth while hiring a professional SEO agency to do your keyword research and SEO.
Ahrefs 
Keyword Finder
Ubersuggest
LSI Graph 
SEMRush 
Buzzsumo 
Google Keyword Planner 
Answer the Public
The Steps…
Step 1: Define the content of your website, brand and/or product or service. Tennis Shoes? Photography? Selling cupcakes? Local plumber? Whatever it is, you need to start with your general topic or niche. 
Trick: Do competitor research to see what your competition is going after / having success with. This could save lots of time and effort in the process. This can be done in depth with tools like Ahrefs and Moz.
Step 2: Identify keywords / keyword phrases related to your topic. This is where all those tools start coming into play and can help tremendously. Now before you over-think things, just start by thinking of the most common everyday events or things that have to do with your business. For ex. Local Plumber – "Emergency Plumbing Services Calgary" could be your first keyword phrase. 
Step 3: Now were going to take these keywords and do some further research. Expecting you came up with at-least 5 keyword phrases…if not I'm very disappointed in you. Just kidding, but common you gotta know your business! Don't worry if you didn't because this step will be using a free tool to help you out. 
FREE TOOL: Google Adwords (Keyword Planner)

How To Use The Google Keyword Planner (Actionable Guide) Click Here To Access
Step 4: We take the keywords that we generated with Google Adwords (Other tools if you want to go much further in depth and research) and you decide which ones are best to go after. I recommend for each keyword that you make a new page on your website (unless the keywords are extremely similar) I would still only target 2 keywords on that page. 
In 2020 Keywords are super important. IF your going to be attempting SEO yourself focus a lot of time and don't skimp out on keyword research and finding effective keywords. IF your hiring an SEO agency, make sure the Keyword Research process is not rushed and you ask why the keywords they decided on where picked. High Traffic? Low competition? Etc.
IF you decide to hire us here at Marvel Marketing, we take Keywords seriously. You can spend thousands of dollars on SEO and if you pay all that money to rank for the wrong keywords…well you get the idea. If you want to attempt SEO on your own and want help with keyword research, then we can do that for you. Hey, I'm ambitious myself and I love when we get to help or work with like-minded ambitious individuals. Its like leg day at the gym, Keywords are the legs, don't skip LEG DAY!!
Did I Leave You With Unanswered Questions? Ask Away!
No, This Is NOT Subscribing You To Anything!